Rescue/Shelter Supporters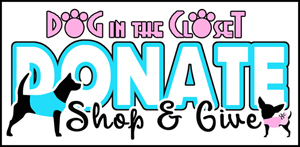 Thanks for visiting our website and helping your favorite Rescue Group or Animal Shelter!
We will give your favorite Rescue/Shelter a 25% donation on all purchases you make on our website.
You may also wish to make a donation of "Adopt Me" Tees, Bandannas, or Tutus to help your favorite Rescue/Shelter adopt more dogs! Dressing dogs in "Adopt Me" clothes often makes the dogs stand out and helps with adoptions. If you wish to donate just add the products and let us know in the comments to send the "Adopt Me" items to the Rescue/Shelter. We'll even refund your entire shipping and ship both of your orders for free!
Have fun shopping and giving at the same time!